Sales Widget is a complex tool that allows you to take care of all the elements for the effective conduct of your business online!
Let's get to know each other
SalesWidget is your individual user database. All the information about users is gathered in one place allowing you to better and more effectively clarify the profile of your target audience. Statistics, reports, and analyses - all this allows you to improve sales, customer service, and special offers.
Professional customer service online
A well-handled client is a client who feels like he is not just a source of material benefits for the seller but also an important person having his needs, expectations, and requirements met. Next Generation Live Chat is a tool that allows you to communicate with your users in real-time, giving you the ability to provide a professional service in a way that engages your client to perform a particular action.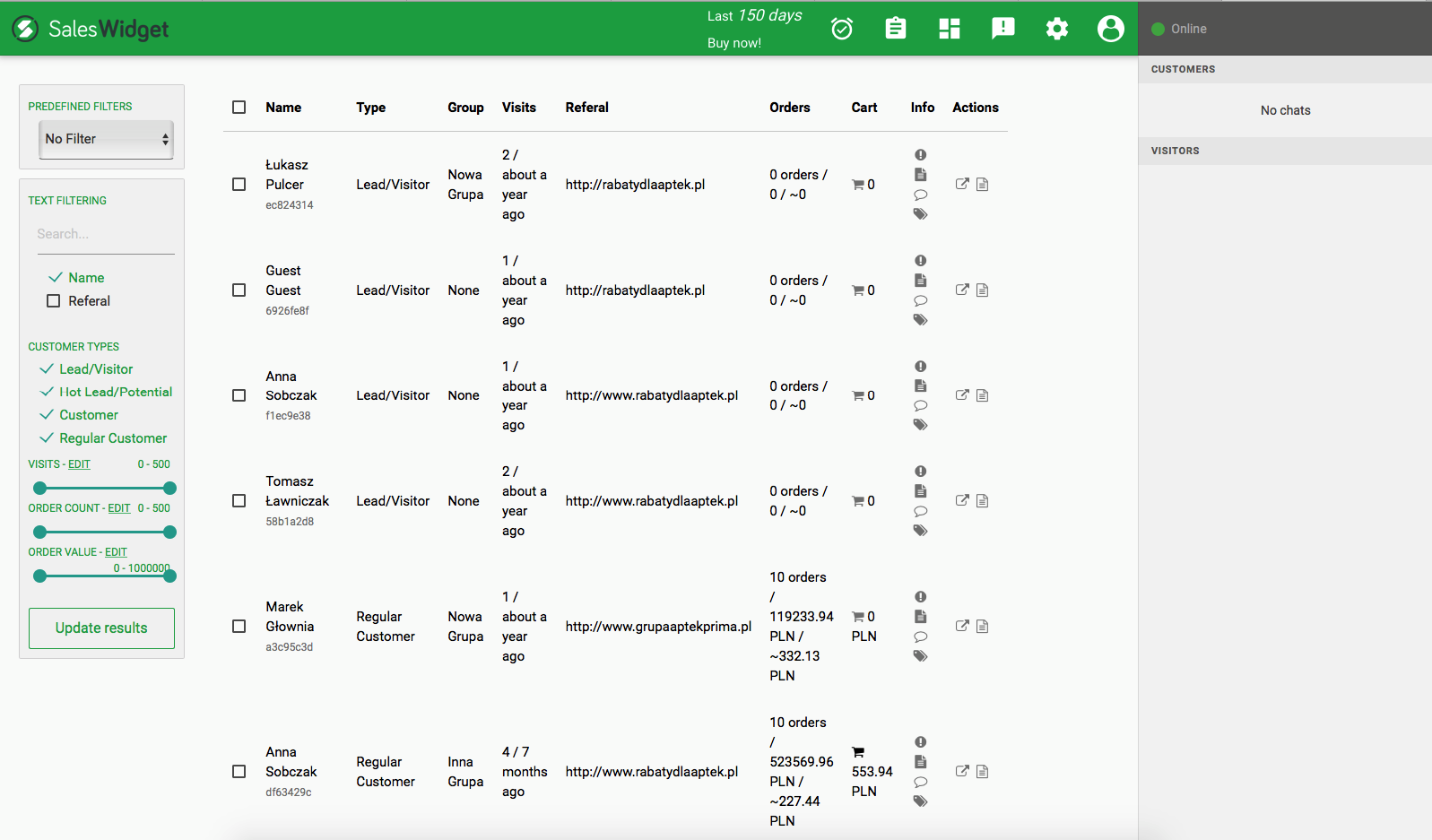 Individual sales activities
Plan your marketing and sales campaigns so that every user of your site receives what they expect. This is enabled by the
Sales Automation
tool, which is responsible for analysis of each user of your site thus allowing your site to display any content to them, such as product advertising, videos or a specific offer from your store. In this way, you become the response to your customer's needs, approaching them with a concrete, individual offer.
Listen to the customer's needs
A personalized survey
, which includes specific questions aimed at your group of customers. By asking questions, you acquire valuable information about the satisfaction of users with your website, offer, and customer service. Then, you can make specific changes that are not only based on your intuition but primarily on the valuable knowledge gained, being the basis on which to achieve your intended objectives.
Reduce the number of abandoned carts
The problem most online retailers have does not need to concern you too. One reason for abandoning of carts by customers is the lack of adequate support from the seller. Cancellation of the purchase always has a cause, so what if you can learn about it and make alterations that will make the customer change their mind and use your offer. Be up to date with the decisions your customers make.