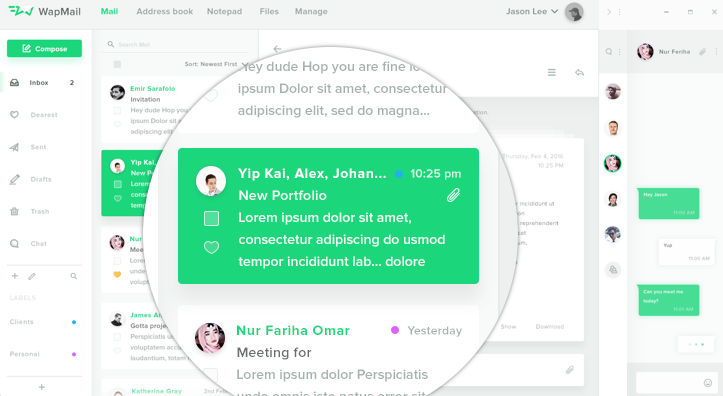 Next Generation Live Chat is a tool that was designed specifically for internet sales, allowing you to achieve the highest levels of communication and customer service, without barriers, obstacles or restrictions. 
Say hello to your client
Thanks to Next Generation Live Chat, your user can make contact with you in the first seconds after entering your website. Show them that you're there for them, that you are at their disposal and willing to provide assistance. In this way, they will have an awareness that in the event of any doubts or problems, they can ask for support. Thanks to this, you now have complete control over the steps that your client is taking. Conversation through Next Generation Live Chat is done in a transparent, appropriately located window, situated in such a way that it is easily accessible to users of the website.
Complex service
No live chat also means a lack of rapid response to actions performed by the user or even to abandoning the cart and failure to purchase. This means that e-shops lose their chance to regain a customer and increase their profits. Conversation in Next Generation Live Chat takes place in real-time, which guarantees immediate help and support, a far better alternative to such channels of communication as e-mail or a phone call, which do not always guarantee an immediate response and the time of solving the problem is significantly longer. This solution primarily means a sense of security for customers and builds growing confidence in the seller. In e-commerce, this plays a key role in the purchasing decision.
Engage the user to act
Next Generation Live Chat also gives you the possibility to send personalized messages to the customer which, in online communication, is extremely important as it allows your customer to feel special. We send out a signal in their direction that to us, they are an individual entity, not simply a member of a larger community. Moreover, such a conversation considerably shortens the distance between the receiver and the sender, it becomes less formal, and that's highly beneficial for obtaining more information, as well as breaking the barrier to asking tough questions.
Monitor the customer's activity
Next Generation Live Chat allows you to not only talk with the client but also to continuously monitor their steps. You have full control over what subpages your users are viewing, what products they are interested in, what is in their cart, and at what stage of the purchase process they are now. At any time, you have the possibility to arrange a conversation, e.g. in the case of cart abandonment or greater interest of the customer in a specific offer. This way, you can have an impact on the decisions made by them and provide them with more information about the product that particularly caught their attention. Receiving a favorable offer from you, which will be adjusted to their needs and expectations, will let them feel that you are interested in their presence in the store, that they are important to you and you care about them making the best possible choice.
Increase conversion and sales
Professional customer service is one of the most important steps in bringing you closer to achieving your objectives, which usually means increasing conversion and sales. Remember that every visitor to your site is your potential customer. For you, this means doubling your profits and, therefore, there are benefits for both sides - the client and the vendor. Next Generation Live Chat is a tool that not only allows you to communicate with the client but is an important element of your entire marketing and sales strategy.